The 2023 Ottawa Civic Prayer Breakfast

 

is on October 27th.
6:30 am – 6:45 am: Coffee & tea available in the foyer
7:15 am:  Breakfast is served
7:30 – 8:40 am: OCPB Program
200 Coventry Road, Ottawa
Free parking under the OCEC.
City parking across from OCEC entrance.
Major Jim Mercer was the Ottawa Prayer Breakfast 2023 speaker. In the light of his present role as the Social Mission Officer at the Ottawa Booth Center here in Ottawa, Jim answered our annual OCPB question of "Who is Your Neighbour?" through the lens of his work with the vulnerable and at-risk population among us.
Jim is passionate about sharing the Good News of the Gospel of Christ and seeing lives transformed in community. He has a heart for those who are marginalized, those with substance use disorders and Jim counts it a privilege to share with them along their journey.
Jim and his wife, Michelle, have shared the blessing of pastoring three congregations – one in Nova Scotia and two in Ontario – over the past 20 years. Jim completed further studies in the field of Not-for-Profit management in 2021 and the following year was appointed to his present role at the Ottawa Booth Center, where he is now in training as an Executive Director.
Jim grew up in Grand Falls-Windsor, NL and after graduating from High School, pursued a career in teaching. After completing his studies at Memorial University of Newfoundland and Labrador, Jim went on to teach middle school as a math and special needs teacher for ten years. Near the end of this tenure, Jim had a personal encounter with Jesus Christ that totally changed his life and path.
In 1999, Jim felt a call to full-time ministry, and following marriage to his wife Michelle in July of 2000, together they entered The Salvation Army College for Officer's Training, and they were both ordained as Pastors in 2002.
Jim enjoys reading, working out at the gym, family time, and cheering for the Toronto Maple Leafs (with apologies to Ottawa Senator fans). Jim lives in Ottawa with his wife Michelle and has two amazing children, Kaelan and Olivia.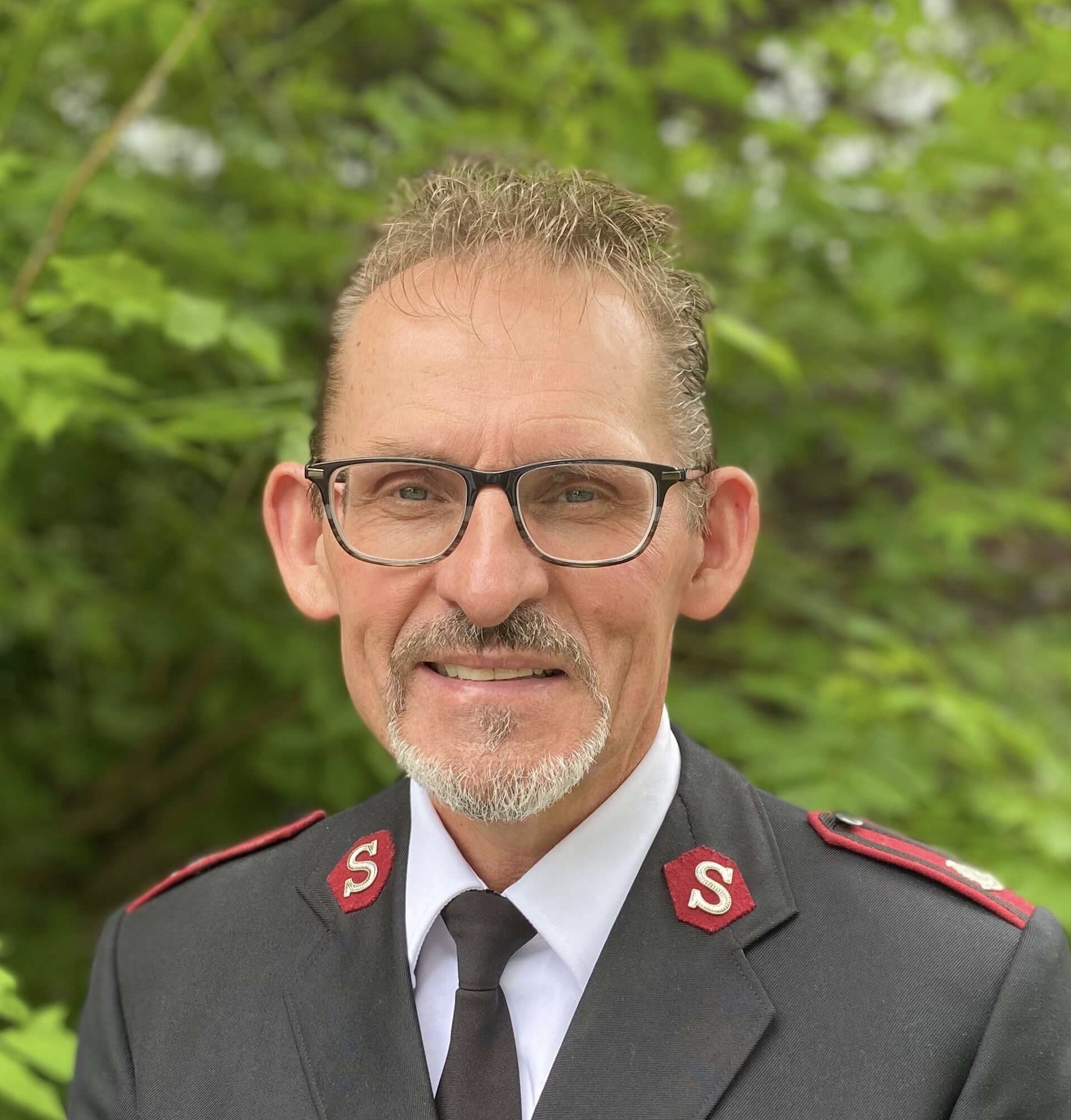 Prayer for Elected Officials and First Responders
Heavenly Father, we stand here in your presence, in reverence of you. You are good, holy, pure, loving, and just. Thank you for the grace you have given us by Jesus Christ's coming, how He willingly fulfilled your purpose of paying for our sins with his life and giving us peace with you. He is worthy of everything we could say about his goodness, power, and supremacy over us and all the world. You know our city by name, you know every one of its residents intimately.
Hear our prayers now for our civic authorities.
For the outgoing Mayor Jim Watson and the 12 councillors leaving at the end of this term, would you bless them and revive them for all that they have poured out of themselves. Thank you for their service to us. Where you see good things growing because of their efforts, would you further establish what they started and the people they invested in. Thank you for working through them.
For the incoming Mayor Mark Sutcliffe, 11 returning incumbents and 13 new councillors, thank you for giving them this authority and responsibility. Give them the spirit of wisdom, love, and justice. Every day, help them be humble, clear minded, compassionate, and informed. Give them united purpose and common ground, being quick to listen, slow to speak and slow to become angry.
For our Police Officers, Fire Fighters, Paramedics, 911-Dispatch, By-Law Officers and Hydro Crews: Would you revive their hearts and heal their souls and bodies from every kind of injury and fatigue. Give them what they need spiritually, mentally, and emotionally. Supply them inwardly with intuition and outwardly with all the equipment they need to do their jobs with excellence.
Guide their leadership and policy makers to decisions that are wise, caring and timely. Encourage them all.
We specifically thank you for:
Police Chief Eric Stubbs,
Fire Chief Paul Hutt,
Paramedic Chief Pierre Poirier,
By-Law Chief Roger Chapman,
General Manager Steve Kanellakos
For all of these mentioned, we pray for your wisdom as described in the Bible, in the letter from James 3:17-18:
17  But the wisdom that comes from heaven is first of all pure and full of quiet gentleness. Then it is peace-loving and courteous. It allows discussion and is willing to yield to others; it is full of mercy and good deeds. It is wholehearted and straightforward and sincere. 18 And those who are peacemakers will plant seeds of peace and reap a harvest of goodness.
We pray all these things in the name of Jesus Christ, your Son, our Saviour. Amen.
Prayer written by Sarah Jackson
We pray at a breakfast because people of faith in Christ are exhorted and encouraged to pray for all in authority so that we may lead quiet and peaceable lives in all godliness.
1 TIMOTHY 2:1-2
This event is made possible by
Thank you for all of the work you and your team have done to pull together this very important and well received breakfast.
Few people take the time to thank elected reps for their service, please know, prayers and gratitude are very much appreciated. City Councillor
I think this morning's event is the best one yet. It seems they get better every year.
I was so gripped by what the speaker had to say and the soloist has the most fabulous voice!
I had two guests with me who both really enjoyed it, their first time there. One is not yet a Christian. As soon as we headed for the car she was saying. "I loved it".
What a great ministry this event is. Janette
I loved Sarah praying one prayer. I think she offered continuity and allowed her to simply shine in her sweet spot.
Daria was outstanding – a mix of fact and passion with personal storytelling. You could have heard a pin drop at the end and I was not in the room! Alana